Invisalign
Advances in orthodontics make it possible to have your teeth straightened without the necessity of traditional metal braces. The Invisalign® system of orthodontics uses a series of clear plastic aligners to gently move your teeth into the desired position, producing a beautifully straight smile of which you can be proud. The aligners are practically invisible, making it the perfect system for straightening teeth discreetly.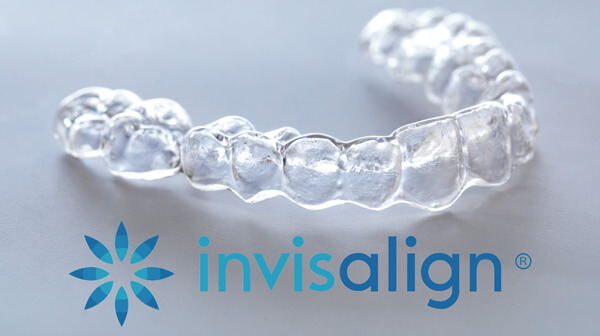 There are several advantages with this system of straightening teeth. The aligners are more comfortable than metal brackets and wires, and they are removable. You get to enjoy all your favorite foods without worry. With traditional braces, you must modify your diet to accommodate the braces. With Invisalign aligners, you can eat what you like. Remove the aligners for meals and snacks and put them back in when you are finished.
Cleaning your Invisalign aligners is also simple. Take them out to brush and floss, gently clean your aligners, and then put them back in. There are no special tools required for cleaning.
Advantages of the Invisalign System
In the past, if you had misaligned teeth, your only option was bulky metal braces. Between the brackets, wires and ligatures, your mouth can become quite sore if your soft tissues rub against the metal. With Invisalign, the smooth plastic aligners are comfortable to wear, and they are not irritating to your soft tissues.
Traditional metal braces require multiple in-office visits to tighten and adjust and extra visits when a wire comes loose or a band breaks. Oral hygiene is a concern with traditional braces because plaque can build up around the brackets, making those teeth more susceptible to decay and gum disease. Invisalign makes straightening teeth simple.
Every two weeks, you will receive a new set of aligners. There are fewer visits to the dentist and considerably more comfort to the process. Invisalign is so discreet; hardly anyone will notice you are wearing aligners.
Contact Gwinnett Family Dental Care and schedule your appointment for a consultation today. Find out how Invisalign Aligners can give you a more appealing smile.