Hamad Hamad, D.D.S.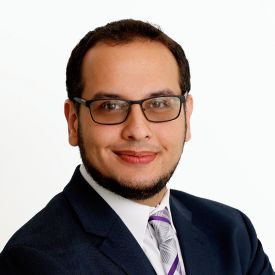 Dr. Hamad Hamad received his Doctor of Dental Surgery degree from the University of Detroit Mercy in May of 2017.
Dr. Hamad believes in lifelong learning and strives to stay updated on the latest treatment modalities that add value to his patients, not just following the latest fads. His favorite continuing education courses include a pediatric mini-residency program at the University of Minnesota, 'Perfecting Atraumatic Extractions & Practical Grafting Techniques' from Amplify Dental at the University of Detroit Mercy, 'Periodontics for the General Population' at the Toronto Implant Academy, and the 'Endo Success for General Dentists' at the Share Study Club in Texas.
Dr. Hamad enjoys seeing dramatic patient transformations that result from the elimination of dental disease. Everyone has a unique dental past, and Dr. Hamad strives to deliver care tailored to each patient's needs and preferences in a judgment-free way. He wants patients to feel comfortable, safe, and pleasant as they receive the treatments they need and want.
Dr. Hamad especially enjoys working with anxious patients who have pushed off dental treatment for years but are now ready to get treatment to create a custom plan that works for their dental needs and wants.
In his free time, Dr. Hamad enjoys traveling (have a great travel story? He would love to hear it!), DIY home improvement projects and volunteering.