James E. Carter, IV, DMD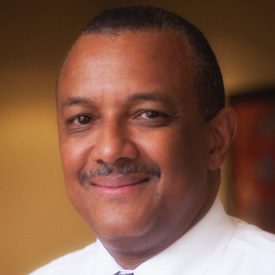 "Maintaining dental care at home is the key to a healthy mouth"
Dr. James Carter, IV
For Dr. James E. Carter, IV, dentistry is his life's work. As a result, he loves his chosen profession of over three decades and the practice of dentistry. He is appreciative and grateful for the trust his patients have in him to provide for their oral health care, and thrives on the opportunity to help patients maintain a healthy mouth. In his daily practice, Dr. Carter and his team all strive to educate and motivate his patients to value their oral health.
Educational Background and Continuing Education
Undergraduate Degrees
Morehouse College and Paine College
Doctorate of Dental Medicine
Medical College of Georgia
Dr. Carter feels it is important to stay abreast of the latest advancements and changes in the dental field in order to better care for his patients. He has been actively pursuing and participating in Continuing Education programs for his entire career of over 30 years.
Personal and Home Life
Dr. Carter is a native of Augusta, Georgia, but has resided in Johns Creek, Georgia for a number of years. He and his wife of over 30 years are the proud parents of two sons. In his leisure time, Dr. Carter enjoys cooking for his family, engaging in other family activities, and playing golf. Dr. Carter believes in giving back to his community by being involved in various outreach organizations and is an active member of his church.