A Broken Tooth Is a Dental Emergency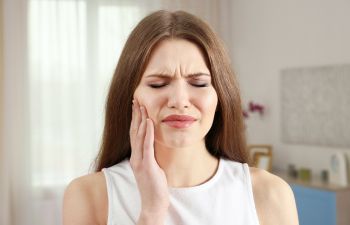 Your smile is one of your greatest accessories. Your smile is a way to express friendliness, confidence, and contentment in everyday situations. It is imperative that you take necessary precautions to protect your smile so that it lasts you a lifetime. Wearing protective facial gear while playing sports and practicing good oral hygiene will go a long way to protect your smile from damage. However, some instances cannot be predicted – a traumatic accident, being struck in the face, or having a cracked tooth that you were unaware of – can result in a broken tooth.
A broken tooth is considered a dental emergency because there is nothing you can do to save your own tooth. Each tooth inside the mouth is an individual living feature. When a tooth is severely damaged, it will die. If a severely damaged tooth is not treated, it can cause the neighboring teeth to become vulnerable to damage and decay, setting off an unwanted domino-effect inside your mouth.
What To Do If You Break A Tooth
If you suffer a broken tooth, the American Dental Association recommends the following steps be taken immediately:
Find the piece, or pieces, of the tooth that were broken off.
Place the broken piece in a small cup with milk or your own saliva.
Rinse your mouth with warm water to clean it. Apply pressure to stop any bleeding.
Contact your dentist right away!
If you are in serious pain, ask about taking an over-the-counter pain reliever to reduce your pain until you get to the dentist's office.
Place a cold compress on the outside of your mouth to reduce swelling.
Try not to panic.
Sometimes a broken tooth can be completely restored, while other times it cannot be. If damage were done to a tooth's root, a root canal would typically be necessary. This procedure is done to save the portion of the natural tooth so that it does not need to be extracted from the mouth. The broken portion of the tooth will be built up so that the tooth completes your smile. If a root canal won't save the tooth and a tooth extraction is necessary, you will likely need a dental implant.
At Gwinnett Family Dental Care, we know that dental trauma can be very devastating. We are here to provide you and your loved ones with excellent dental services for all your dental needs. If you suffer from a broken tooth, please contact our practice right away.
Posted on behalf of Gwinnett Family Dental Care
3455 Lawrenceville Highway
Lawrenceville, GA 30044
Phone: (770) 921-1115
Monday - Thursday: 9 AM - 5 PM
Friday & Saturday: 9 AM - 4 PM