A Custom-Fit Mouthguard is Better Than the Store-Bought Varieties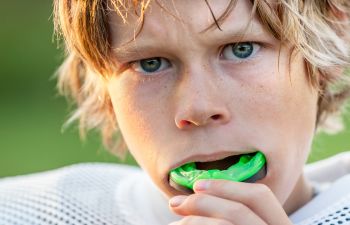 A custom-fit sports mouthguard is as essential as helmets and padding for protection on the playing field. Not only do they protect against sports-related injuries like chipped or knocked out teeth and lacerations to the lips and cheek, but they also prevent concussions and jaw fractures.
Getting a Gwinnett-Made Mouthguard is Fast
While you can find off-the-shelf mouthguards like boil-and-bite or stock varieties at your local sporting goods store, a custom-fit one from Gwinnett Family Dental Care will offer a superior level of comfort and protection. We fabricate athletic mouthguards using advanced technology and leading dental software; therefore, the fit is precise, and the appliance securely hugs the teeth.
The Gwinnett Family Dental Care office features a Drufomat Scan Machine, a sophisticated technology that delivers top-quality, made-to-order appliances tailored to your unique smile. The device makes your mouthguard on the spot, so you do not have to wait or return to the office days later to pick it up. It is one of the numerous ways we stay true to our promise of providing you with convenient dental care.
The Benefits of a Custom-Fit Mouthguard
Every person's mouth size and shape are different. A custom-fit appliance is tailored to fit your teeth and gums. In addition, braces or other devices are adequately protected. Overall, the secure fit will offer better protection.
A custom-fit mouthguard is more comfortable and less bulky. Therefore, breathing, swallowing and talking are effortless compared to wearing a store-bought mouthguard. You will not have to close your mouth to keep it in place. Custom mouthguards are more durable. You save money by preventing injuries. For instance, it can cost thousands of dollars to replace a tooth.
The Importance of Wearing a Mouthguard
A mouthguard is critical if you or your children plan to participate in contact sports like boxing, football, rugby, lacrosse, hockey, basketball, baseball, soccer, gymnastics, martial arts, skateboarding, biking, snowboarding or ice skating (to name a few).
Many of the five million teeth dislodged annually are knocked out because of a sports injury. Wearing a custom-fit mouthguard is the best way to prevent damage to the teeth, cheeks, tongue and lips. Furthermore, its shock-absorbing ability helps protect against concussions and jaw fractures.
Scheduling Your Custom Fitting
A brief appointment and minor investment that can avert catastrophic damage are worthwhile. So, if you wish to learn more about the importance of a sports mouthguard or are ready to have yourself or your child fitted for one, contact Gwinnett Family Dental Care in Lawrenceville today.
Posted on behalf of Gwinnett Family Dental Care
3455 Lawrenceville Highway
Lawrenceville, GA 30044
Phone: (770) 921-1115
Monday - Thursday: 9 AM - 5 PM
Friday & Saturday: 9 AM - 4 PM