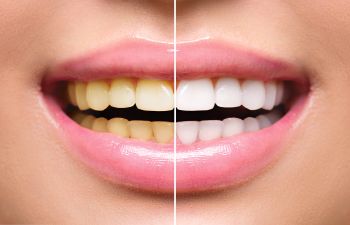 As August rolls around, there's an anticipation of changes that are about to begin. The daily temperatures start to cool, and kids head back to school. Have you changed your travel routes to accommodate for the increased school traffic? Have you noticed any leaves beginning to change their color? As your schedule, the weather, leaves, and traffic patterns are all changing, there's one thing that should not change.
The Gradual Discoloring Of Your Teeth
Tooth discoloration usually happens gradually with time. Over time, the dentin in your teeth naturally yellows and the enamel that covers your teeth gets thinner with age, which enables the yellowing dentin to show through. Certain habits trigger tooth discoloration, as well. Staining can occur if you're in the habit of consuming coffee, wine, cola, or other drinks or foods. Smoking also causes staining on your teeth. This discoloring will rob you of your brilliant white smile.
Preventing Tooth Discoloration
There are things you can do to prevent some tooth discoloration. Remember to brush your teeth after every meal. You can also rinse your mouth with water after consuming wine, coffee, or colas. Regular cleanings by a dental hygienist can also help prevent surface stains on your teeth.
Gwinnett Family Dental Care – Keeping Your Smile White
Gwinnett Family Dental care offers you the very best in cosmetic dentistry, including teeth whitening. We are committed to providing state-of-the-art technology in cosmetic dentistry. If your teeth are beginning to show signs of changing colors, contact us today to schedule a consultation for teeth whitening.
Posted on behalf of Gwinnett Family Dental Care
3455 Lawrenceville Highway
Lawrenceville, GA 30044
Phone: (770) 921-1115
Monday - Thursday: 9 AM - 5 PM
Friday & Saturday: 9 AM - 4 PM