Giving Thanks for Healthy Smiles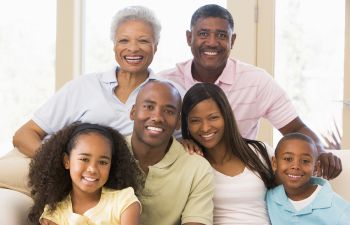 Keeping the smiles in your family healthy is one of the best things you can do for your family members. From the smallest tot with that first tooth, to grandparents who may need dentures, a healthy smile contributes to overall health in many ways. Dental care is important at every stage of life. Even people with no teeth at all still need annual dental checkups to ensure the health of their mouth.
Dental Care for Little Ones
The American Academy of Pediatric Dentistry recommends that children have their first dental visit when the first tooth erupts, or at least by their first birthday. Establishing good oral care from the very beginning will build a firm foundation for life-long oral health. Getting your little one used to going to the dentist early in life can also reduce the chances of developing fears about going to the dentist.
Your child's dentist has the opportunity to help your child main optimal oral health, and if there are issues such as orthodontic concerns that may require treatment at a later age, they can be caught early. Sometimes early intervention can minimize later treatments in such cases.
Older Children and Teens
It can be challenging to keep up with older children and adolescents and their oral care. With busy schedules, raging hormones and other issues, keeping up with dental care may not seem important, but it certainly is. Regular dental checkups will help keep dental cavities and gingivitis at a minimum. Also, identifying the need for orthodontic treatment early can help minimize the necessity of more extensive treatment later.
Adult Dental Care
With busy lives, it can be easy to constantly put off a trip to the dentist. Unfortunately, doing so can lead to bigger, more painful and more expensive problems. Making your dental care a priority keeps your smile healthy and looking good. You may determine that there are some cosmetic changes you would like to make to enhance your smile so it is always looking its best. Picture perfect smiles can be attained with certain procedures, some of which can be accomplished in one visit to the dental office.
Dental Care for the Elderly
By the time the average American reaches 60 years of age, already several of their teeth have been lost. After this age, teeth are most often lost to periodontal disease. Keeping up with dental care can eliminate this problem. People who have no teeth are also more likely to suffer from chronic kidney problems. Restoring missing teeth with dentures not only restores a beautiful smile, it also helps restore general health and well-being.
At every stage of life, dental care is an important part of your overall health and well-being. Gwinnett Family Dental Care will help keep all the smiles in your family healthy and looking their best. Give us a call today to schedule appointments for the members of your family so you can be thankful for healthy smiles.
Posted on behalf of Gwinnett Family Dental Care
3455 Lawrenceville Highway
Lawrenceville, GA 30044
Phone: (770) 921-1115
Monday - Thursday: 9 AM - 5 PM
Friday & Saturday: 9 AM - 4 PM