Keep Your Teeth White Long After Treatment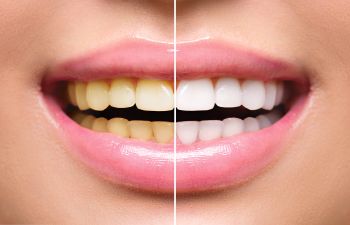 Whenever you invest in something, you want it to last as long as possible. Teeth whitening is the most popular cosmetic dental procedure in the United States. While it is relatively inexpensive, it still costs you some time and money. Unfortunately, the results that you are able to achieve from a professional teeth whitening treatment are not permanent. Over time, most people find that their teeth revert to their darker, more yellow hue.
The good news is that whether you are getting your teeth whitened to look smashing on your wedding day, to make a great first impression in a job interview, or to take years off your appearance, there are simple ways you can extend the results that you achieved from your whitening procedure.
Practice Good Oral Hygiene
Despite having your teeth whitened or not, the best way to care for your teeth is by practicing good oral hygiene daily. Flossing once a day, brushing at least twice a day, rinsing your mouth after meals, and drinking plenty of water are the simplest things you can do to enhance your smile. These simple steps will also lengthen your whitening results. Dirty teeth can sabotage the results you were able to achieve with teeth whitening. As plaque accumulates on the teeth, it darkens and coats the surfaces of the teeth. Practicing good oral hygiene habits will allow you to maximize your whitening results.
Avoid Staining Culprits
There are certain foods and beverages that are notorious for causing stains on the teeth. Red wine, coffee, tea, alcohol, acidic juices, sodas, blueberries, and blackberries can also cause stains on the teeth in a short amount of time. By avoiding these foods and beverages, especially within the first few weeks of your procedure, you can extend the results from having your teeth whitened.
Use Oral Whitening Products
There are many over-the-counter options available that are marketed to whiten the teeth. While none of these products are able to achieve professional results, whitening toothpastes and mouthwashes can help prevent stains from developing on your newly whitened teeth.
Contact Gwinnett Family Dental Care to learn about our teeth whitening treatments. We are here to help you achieve a beautiful, healthy smile.
Posted on behalf of Gwinnett Family Dental Care
3455 Lawrenceville Highway
Lawrenceville, GA 30044
Phone: (770) 921-1115
Monday - Thursday: 9 AM - 5 PM
Friday & Saturday: 9 AM - 4 PM