Now Is The Perfect Time To Protect Your Child's Teeth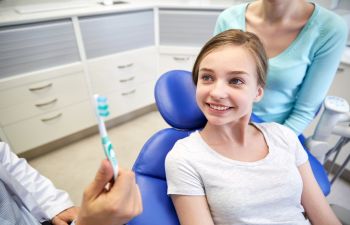 Last month, we discussed the importance of limiting your intake of sugar because of how much damage it can cause to the teeth. This month we want to give you a little piece of advice on how to protect your child's teeth now and throughout the holiday season – with minimal effort on your part.
Dental sealants are a simple, yet effective, way to protect the back molars from getting cavities. These back teeth are notorious for getting cavities because they have such deep grooves and pits. While the molars were specifically designed to have rough surfaces to aid in chewing and breaking down food, they also tend to trap food particles.
Dental sealants are thin, plastic coatings that are applied to the molars to "seal out" unwanted particles. They can be applied right after a dental cleaning, taking approximately two minutes per molar. This means you will not have to schedule an additional appointment to work into your busy schedule! Here is how the treatment goes:
The teeth are thoroughly cleaned and examined, per usual.
The back teeth are dried completely.
An etching substance is applied to each molar to help them bond with the sealant material.
The sealant coatings are painted on each molar.
A curing light is used to harden and bond the sealants to the teeth.
It really is that simple! There is no pain associated with dental sealants, so your child will not need to feel any anxiety regarding this procedure. You, as the parent, can walk out of the dentist's office knowing that your child's teeth are more protected than ever from cavities and decay.
At Gwinnett Family Dental Care, we genuinely care about your family's oral health. With the holiday season in full swing, now is the perfect time to protect your child's teeth from all of the desserts they are bound to partake in.
Posted on behalf of Gwinnett Family Dental Care
3455 Lawrenceville Highway
Lawrenceville, GA 30044
Phone: (770) 921-1115
Monday - Thursday: 9 AM - 5 PM
Friday & Saturday: 9 AM - 4 PM