Smart Choices for a Healthy Smile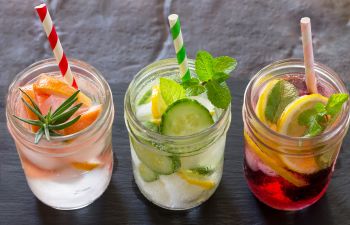 We've all heard the term, "You are what you eat." Most people apply that phrase to their weight and overall health, but it is even more true for your teeth and gums. It is easy to overlook the mouth when it comes to eating. It's a strange oversight, though, when you stop and consider that everything you eat and drink enters your body through your mouth! With that ah-ha moment, let's look a little deeper into how the health of your smile is affected every time you take a bite or a sip of something.
Millions of oral bacteria live inside the mouth. These oral bacteria are present to "help" break down particles left behind inside your mouth after eating and drinking. However, these bacteria can easily lead to tooth decay and gum disease when your dietary choices are less than stellar. Oral bacteria thrive off sugar and starches. Every time you eat or drink starchy or sugary foods, you are not only feeding your stomach – you are also feeding the bacteria inside your mouth.
Oral bacteria are drawn towards sugar and starch, and wherever they find these particles in the mouth, they will congregate in massive quantities. When the bacteria come together in large numbers, they will attack the sugary and starchy particles in excess. As the bacteria work to break down the particles, they create acids. These acids are what ultimately attack the teeth and cause cavities, gum disease, and tooth decay.
Making smart choices for a healthy smile is easy to do. It just takes willpower to do it. Here are steps to take:
Avoid sugar-laden beverages. Fruit juice, alcoholic beverages, soft drinks, sports drinks, and energy drinks are laden with sugar. Every time you take a sip, you are literally bathing your teeth in sugar.
Make water your beverage of choice. Water is the most abundant resource on the planet. Water has no calories or fat, yet it is necessary for life. When you drink water, you are hydrating your body and flushing out toxins.
Rinse your mouth after drinking. If you choose to drink something other than water, make sure you rinse your mouth with water after drinking. This will help to rinse away particles that attract bacteria.
At Gwinnett Family Dental Care, we encourage all of our patients to make a habit of drinking more water. If your past choices have caused damage to your smile, it is not too late. We have treatments available to restore the health of your smile. Contact our practice today.
Posted on behalf of Gwinnett Family Dental Care
3455 Lawrenceville Highway
Lawrenceville, GA 30044
Phone: (770) 921-1115
Monday - Thursday: 9 AM - 5 PM
Friday & Saturday: 9 AM - 4 PM