The 4-1-1 on Alcohol-Based Mouthwash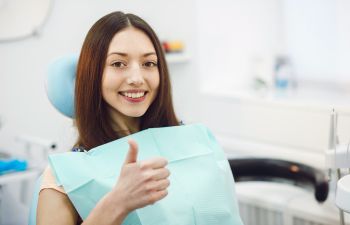 Many people choose to use mouthwash each day. Some people use it to fight bad breath, some use it because they forgot to brush their teeth, and some use it as an added measure in their dental hygiene routine. Mouthwash is an excellent way to flush out bacteria from the mouth in order to prevent cavities and gum disease. However, with a quick walk down the dental aisle at the grocery store, you will find that there are many mouthwash options to choose from, and it can be confusing.  While there are different brands and flavors, all mouthwash options can be broken down into two categories: alcohol-based and alcohol-free.
Most dentists recommend that patients choose an alcohol-free mouthwash, and here's why.
Alcohol-based mouthwashes come with specific dangers that can threaten your oral health.
Because the gum tissues within your mouth are living tissues, they absorb certain chemicals that are put into your mouth. If you are rinsing your mouth for the recommended 60-seconds with an alcohol-based mouthwash, you are potentially introducing a large amount of potent carcinogens into your gum tissues.
Alcohol-based mouthwash is a strong substance. You know this if you have ever made it 60 seconds. The burning inside your mouth is powerful! Allowing an alcohol-based substance to linger on any surface can erode the surface. It has been shown that alcohol-based mouthwash can contribute to ulcers and damage to dental fillings.
In addition, alcohol-based mouthwash is not safe for certain people. Children, people with diabetes, and people undergoing chemotherapy should not use alcohol-based mouthwash.
Alcohol-free mouthwash is actually very effective. Many people mistakenly believe that if it doesn't burn your mouth, then mouthwash is not doing its job. The job of mouthwash is to eliminate damaging bacteria from your mouth. Coconut oil, essential oils, and fluoride are effective at killing bacteria. There are also several varieties of alcohol-free mouthwashes available.
At Gwinnett Family Dental Care, we can advise you on oral care products for your specific needs and concerns. Please contact us today!
Posted on behalf of Gwinnett Family Dental Care
3455 Lawrenceville Highway
Lawrenceville, GA 30044
Phone: (770) 921-1115
Monday - Thursday: 9 AM - 5 PM
Friday & Saturday: 9 AM - 4 PM