The Bride And The Groom Should Wear White On The Wedding Day – A White Smile, That is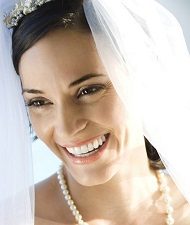 "And they lived happily ever after."
Is your big wedding day approaching now that spring is here? Spring weddings are beautiful. The weather is typically mild, and the blooming flowers make for a perfect backdrop for your big day and your photographs.
If you're the bride, we're assuming you have your wedding dress by now. Is it white? According to The Frisky, 87 percent of brides still wear white. If you're the groom, will you be wearing a white tuxedo? According to A Tailored Suit, "The groom does not typically match the bride and should not wear a white suit."
While there is a debate about wearing all white on your wedding day, there is one solid item that should be white on both the bride and the groom. A white smile is a wedding must-have for both the bride and the groom.
Professional Teeth Whitening For The Bride And Groom
If your teeth are discolored, it's time to restore their brilliant whiteness for your big wedding day. Did you know, according to Harper's Bazaar, there are 3,000 pictures taken at an average wedding; and that's just pictures of the bride!
Book your cosmetic dentistry appointment at Gwinnett Family Dental Care today. We will help you achieve a brilliant white smile for your upcoming wedding. We offer you the very best, state-of-the-art technology in cosmetic dentistry. Come in for a consultation for your teeth whitening. We will restore your smile to its former glory in time for your big day!
Posted on behalf of Gwinnett Family Dental Care
3455 Lawrenceville Highway
Lawrenceville, GA 30044
Phone: (770) 921-1115
Monday - Thursday: 9 AM - 5 PM
Friday & Saturday: 9 AM - 4 PM