The Importance of Back to School Checkups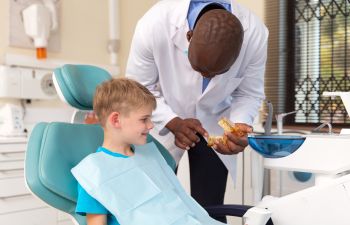 Each autumn, families across the nation make dental appointments for their children for the back-to-school dental checkup. Some school districts make it mandatory for returning students to have these important examinations, while others only require new students to show proof of a recent dental exam.
These exams are an important step in making sure your child has a good school year. Over 51 million school hours are missed by students each year due to dental disease, according to a report from the American Dental Association. When students have their teeth and gums checked at the beginning of the school year, problems can be identified and dealt with right away.
Thorough Dental Exams Eliminate Problems
Dental decay is the most common chronic disease among school-aged children. When caught early, tooth decay and gum disease can be treated before the situation causes discomfort or pain. Left untreated, these diseases can interfere with a child's ability to chew, speak or pay attention in school. If you have ever had a toothache, you understand how distracting the pain can be.
Dental examinations also act as a baseline for the dentist to monitor development of the oral structures. Early intervention for some issues can eliminate the need for braces or other oral therapies in the future. If the problem cannot be eliminated, at least parents can be prepared for what to expect as the child grows.
Proper Oral Hygiene
Children do not always brush and floss properly. This can lead to areas that are more susceptible to dental decay or gingivitis. A visit to the dentist will not only identify these areas of neglect, but also provide your child an opportunity to learn proper brushing and flossing techniques. Additionally, your child's teeth will be professionally cleaned, which will eliminate plaque buildup and the chance for gingivitis to develop.
Protect Teeth with Sealants
Dental sealants can protect back teeth from decay. When permanent molars erupt, they usually have deep grooves and fissures in the chewing surface. These areas are highly susceptible to decay because bacteria accumulate and produce the acids that eat away at tooth enamel. When dental sealants are applied to these surfaces, they provide a barrier so the bacteria can not affect the tooth. Sealants are usually applied to the molars when they first erupt, although they can also be applied to primary teeth if the dentist determines that it would be helpful.
The back-to-school oral examination is a preventive measure to ensure you child begins the school year with good oral health. Gwinnett Family Dental is committed to helping families in and around the Lawrenceville area maintain their best oral health. Give us a call and schedule appointments for your family today.
Posted on behalf of Gwinnett Family Dental Care
3455 Lawrenceville Highway
Lawrenceville, GA 30044
Phone: (770) 921-1115
Monday - Thursday: 9 AM - 5 PM
Friday & Saturday: 9 AM - 4 PM