The Importance of Oral Cancer Screening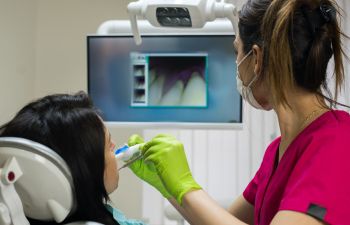 When it comes to inspecting for oral cancer, dentists have the upper hand. The patient is lying on their back, so we can see their entire oral cavity from above. This is one of the reasons why biannual dental visits are critical.
To be clear, however, oral cancer screenings do not serve as a cancer diagnostic tool. Thus, we will refer you to an oncologist for further evaluation if we notice anything unusual.
Screening for oral cancer is a valuable tool for spotting the disease in its earliest stages. Collected suspicious cells can be tested in a lab to determine definitively if oral cancer is present.
Why Oral Cancer Screenings are Exceptionally Important Now
Human papillomavirus (HPV)-related cancer rates have skyrocketed in recent years, further illustrating the importance of universal screening.
There has been a steep increase in head and neck cancer cases in the past couple of decades caused by HPV. Therefore, regardless of their medical history or lifestyle habits, everyone needs to be screened for and evaluated for suspicious areas or abnormalities.
Oral cancers benefit from being located in a part of the body that can be examined without causing undue trauma and allowing for early detection through non-invasive means.
When Should You Start Screening for Oral Cancer?
Screening for oral and pharyngeal cancers should begin annually at age 18 and continue throughout life. Tobacco users are particularly prone and should be screened from the year they start using tobacco products.
Oral cancers in the front frequently result in overt, visually apparent pre-cancerous tissue changes. These are typically caused by smoking, excessive alcohol consumption or in rare cases, a genetic predisposition.
Cancer of the oropharynx, located at the back of the mouth, can be caused by tobacco use, too. Still, the human papillomavirus type 16 (HPV16), also linked to cervical cancer, is a more common cause. Thus, do not assume that just because you do not smoke that you can avoid these oral cancer screenings.
Scheduling Biannual Dental Checkups that Include Oral Cancer Screenings
There are over 40,000 cases of oral cancer per year in America. Early detection dramatically increases survival chances. Unfortunately, many cases go undiagnosed for too long, increasing complications or deaths. Gwinnett Family Dental Care's sweeping general dentistry services include oral cancer screening because we prioritize patients' overall well-being.
Contact us if you have concerns about cancer or are unsure if you have been screened. We will schedule a thorough dental exam that includes oral cancer tests and teeth and smile inspections. Our dental team is standing by to provide the best oral care in Lawrenceville.
Posted on behalf of Gwinnett Family Dental Care
3455 Lawrenceville Highway
Lawrenceville, GA 30044
Phone: (770) 921-1115
Monday - Thursday: 9 AM - 5 PM
Friday & Saturday: 9 AM - 4 PM