Your Child's Early Oral Health Care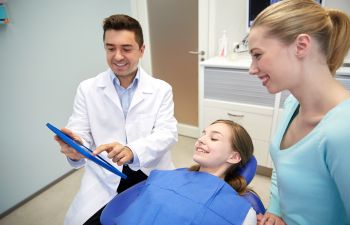 Babies grow and change very rapidly as they develop. One day they are sleeping away most of the day, and the next, they are smiling and cooing. Pretty soon after that, they are sitting up and reaching for their favorite toys. Not long after this, they are cutting teeth and entering into the world of solid foods. While no one wants to rush through all of these miraculous stages in a baby's development, but with rapid changes occurring, it is often hard for parents to keep up. At Gwinnett Family Dental Care, we want to encourage you to make your child's early oral health care a priority.
Once your child starts cutting teeth, it is important to take proper care of them. Wiping them with a damp washcloth twice a day is a great way to introduce a baby to the importance of oral hygiene. As soon as your baby is capable, give them a soft-bristled toothbrush that is made for infants and let him chew on it. Not only will this feel good on your baby's gums, but it will also do some cleaning in the process!
Another essential aspect of your child's early oral health care is taking your child to the dentist from an early age. It is recommended by the American Dental Association (ADA) that all children visit the dentist by their second birthday. While this may seem like a young age, there are two main goals for this recommended age:
Your child will develop a healthy relationship with dental visits. The first few dental appointments for young children are mainly fun! They are specifically set up to make your child feel comfortable at the dentist so that he will not be scared of the dentist's chair, dental tools, or having fingers placed inside his mouth.
These first appointments allow dentists to gain a great deal of information about your child's developing mouth. Once your child's dentist has a reference for oral health, it will be easy to spot anything out of the ordinary.
At Gwinnett Family Dental Care, we enjoy seeing our youngest patients. Please call today to make your child's first appointment.
Posted on behalf of Gwinnett Family Dental Care
3455 Lawrenceville Highway
Lawrenceville, GA 30044
Phone: (770) 921-1115
Monday - Thursday: 9 AM - 5 PM
Friday & Saturday: 9 AM - 4 PM