Dental Technologies that Make Treatments Quick and Efficient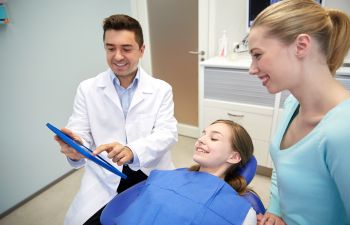 If you have ever visited the dentist for a restoration, chances are it was a long process. Traditionally, many dentistry procedures required multiple visits. Patients were forced to endure uncomfortable examinations and fitting for new teeth or devices using physical impressions.
With advanced technologies, you can avoid drawn out treatment and uncomfortable dentistry processes. At Gwinnett Family Dental Care, we used advanced equipment to deliver precision restorations and orthodontic devices. Our goal is to ensure that patients are relaxed and able to benefit from rapid results.
Dental Restorations with CEREC
In the past, an initial visit to the dentist involved having impressions made of your teeth. Next, your dentist would fit a temporary crown or filling. Now, an optical impression is created using CAD/CAM technology. This 3D model is transferred to the CEREC system to create the restoration.
The CEREC system process allows for same-day creation of restorations including crowns, bridges or a bridge. Patients who experience anxiety about visiting the dentist will benefit from fewer appointments and a more comfortable experience. By the time you leave our Gwinnett Family Dental Care offices, you will have natural looking and durable teeth.
Drufomat Scan Machine
If you grind your teeth at night, a nightguard is an effective solution. However, it is important that these devices are a good fit for your mouth. Products that are sold over-the-counter are advertised as "one-size-fits-all." Unfortunately, this does not typically translate to effective.
At our Lawrenceville, GA offices, we used the Drufomat Scan Machine to create precision nightguards and mouthguards. We can also provide teeth whitening trays using this advanced technology. With multipurpose applications, our state-of-the-art equipment offers same-day solutions to patients.
Emergency Dentistry
Emergency dentistry should aim to complete treatment quickly and effectively. If you have to attend multiple visits to the dentist, it is not exactly urgent care. The Gwinnett Family Dental Care offices rely on dentistry innovation. Technology speeds up treatment times and significantly improves outcomes.
Call the Georgia offices of Gwinnett Family Dental Care today to learn more about how we use technology to deliver excellence in dentistry.
Posted on behalf of Gwinnett Family Dental Care
3455 Lawrenceville Highway
Lawrenceville, GA 30044
Phone: (770) 921-1115
Monday - Thursday: 9 AM - 5 PM
Friday & Saturday: 9 AM - 4 PM